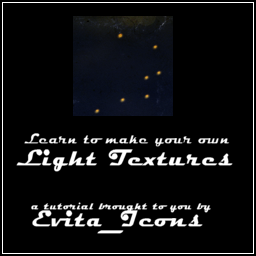 Program: PSP X2
Level: Easy
Translatable: Yes!

Join
evita_icons for more tutorials



I tried a new narritive style for this tutorial. I tried explaining something as if I was actually saying them. Usually my tuts are pretty to the point but I thought I'd try something a little different. Tell me what you think, ok? :D

Hello! Ever want to use those snazzy light textures but either have too many points of light or too few? Or they have about the right amount but they fall in the wrong place? Well here is your solution! Make your own! It's super simple and quick!

1) Start out with about 250x250 blank black canvas. I start out with a bigger canvas because I want to have more control where I put the dots of light.





2)First create a new raster layer then with my paint brush [pt size:10, hardness:21, opacity:100] I make the dots. I usually focus around the edges of the canvas since usually the image I will use this texture on later has the focus in the middle of the icon (or there abouts). You can use any yellow, orange or even pink color. I like the orange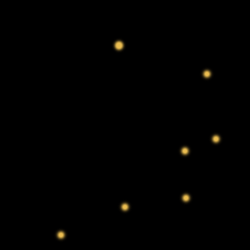 3)Duplicate the layer with the paint dots. Set the top layer to Overlay at 100%. This will give a nice glow.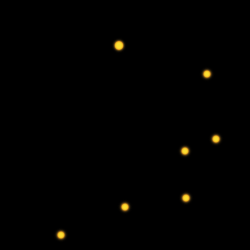 4)Then select the original raster layer (where you first painted the dots) and go to Adjust>blur>motion blur. You can vary the angle you want. In this case I chose an angle that was to the left and slightly down. Opacity about 20%. This will give the slightly streaming look of the dots.




5)At this point I resize my texture to 100x100. [Tip: I use the shortcut of Shift + S ]





6)Then create a new raster layer> flood fill with a dark blue and set to exclusion at about 70%.


--



7)After that I take a little help from textures I already have. This one is (I think) from colourthehours . There are hundreds of textures like this on the internet so any will really do. I paste the texture on and set to Screen at 100%


--



8) Another premade texture from Euphoric-Acid. Set this texture to Multiply at 100%. This will add the whips of color at the top and a little grunge.



--



9) Last texture! Paste on and set to Screen at 100%. This is a texture I made but again, there are many, many textures like this out there. Take your pick.




--



And you're done! Show me what you've made :D

Here are a few examples of using the texture on an icon