From this:

to this:



Program: Paint Shop Pro X2 Ultimate
Difficulty: Easy!



As requested by
shalowater.

1. I took this base

made by
punkette4vab. It's incredible how vibrant the image already was, even before I'd started!

I liked the blues in the picture, but I wanted to make those blues brighter and more saturated, and also add a red-orange edge to Christina Ricci's face and hair. So to start that color tweak, I created a new raster layer, filled it with #9cf4e2, a nice pale green-blue, and set it to Burn 11. Almost imperceptible, but it's a start.

Result:




2. Next the red-orange edge. I created a new raster layer, went for a quiet-looking orange, #fa5a52, and set it to Burn 13. This color worked really well, because it even deepened the blues a little while it was at it.

Result:




3. Last fill layer! (Usually, it takes me half a dozen or more fussy little fill layers to achieve the desired result, but this time we're lucky.) I filled this one with #d6e7f6, a nice, icy-pale blue, and set it to Burn 23. The colors were exactly as I wanted them . . . except for the saturation.

Result:




4. I created a Hue/Saturation/Lightness layer, with Saturation set to 30, and left it at Normal 100.




Then, for just a little extra punch, I duplicated this layer (by left-clicking on the layer itself and then right-clicking Duplicate) and set the new copy of this layer to Normal 39.




Now the colors are the exact shade and saturation I was going for!

Result:




5. Finally, the inescapbable light blob. I decided I wanted it right on Christina, the focal point being the tendrils of hair framing her forehead and her right eye. (Well, actually, it's her left eye, but from our POV, it's her right.)

So, with the Paint Brush set at white (#ffffff) and Size: 10, Hardness: 0, and Step: 1, I scribbled around a bit in that area.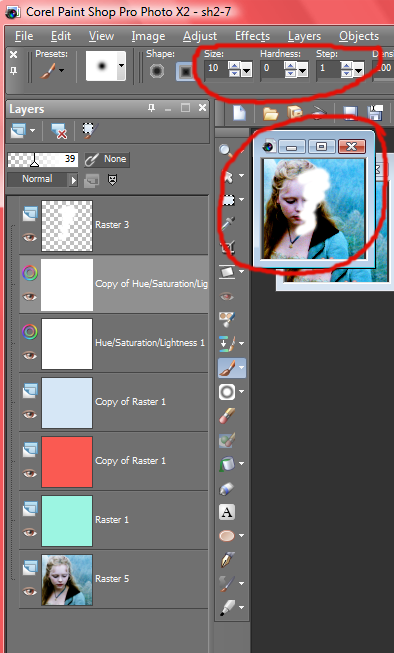 Then I opened up Glaussian Blur (Adjust>Blur>Glaussian Blur) and set it to Radius 13.00.




When blurring blobs while making icons, I always use a relatively small radius, so I have more control. I can repeat the step by hitting Ctrl+Y as many times as I want, so it's easier to use a small radius to get the blob to just the right size, as opposed to a huge blur radius that stretches the blob so thin, it's no longer a blob anymore.

This time, I only repeated the blur step once, then set the blob layer to Normal 60.

Result:



6. Finally, I sharpened by hitting Copy Merged (Edit>Copy Merged), then hitting Ctrl+V to paste as a new layer, then hitting Adjust>Sharpen, and then setting the layer to Normal 25.

Result:





Done!