In my
last icon post
I said I'd take tutorial requests.
overstreets
asked for one for a
Gossip Girl
icon, so I've delivered.
I had to re-create this from memory and by trial and error as I didn't keep the psd for the icon, but it came out pretty damn close to the original! I know this isn't how I created the original, but that just goes to show that there's more than one way to get to a result!
Go from this: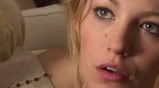 to this:

(
Collapse
)
More tutorials can be found at my icon journal
morbid_girls
.