There's been a few questions recently about how to best use textures. Well, I threw together something quick and easy in an attempt to answer. (In PSP9, totally translatable.)

The Blend Method: The first way to use a texture is to put it over the entire base of your icon and then play around with the blend mode (I usually end up using multiply, but don't box yourself in) and opacity to make your base and texture both appear in some capacity. After this, you usually want to do some touch up on the part of the texture layer that is over your subject - this could involve softening/blurring or smudging/pushing or something else. You usually don't really want the skin of your favorite actor to look textured, which is why we usually try to touch up that area. This method is good if you want your subject and your background to blend together well and be cohesive. Usually, more subtle textures work better for this type of texturing.

The Erase Method: This method is better for bolder textures and usually makes your subject stand out from the texture more. This method involves putting the texture over the entire base and then erasing the part of the texture that is over your icon's subject. Play around with blend mode and opacity again, but this time you don't need to worry about what looks best over your subject too. The biggest tip here is to zoom way in when you are erasing (or using a mask, either way works) and make sure you don't have any wonky parts, because nothing looks worse than wonky erasing. If you wanted you could draw a stylish line between the texture and the subject for easier erasing purposes. In this method, you want the colors already present in your subject to coordinate with your texture moreso than in the previous method.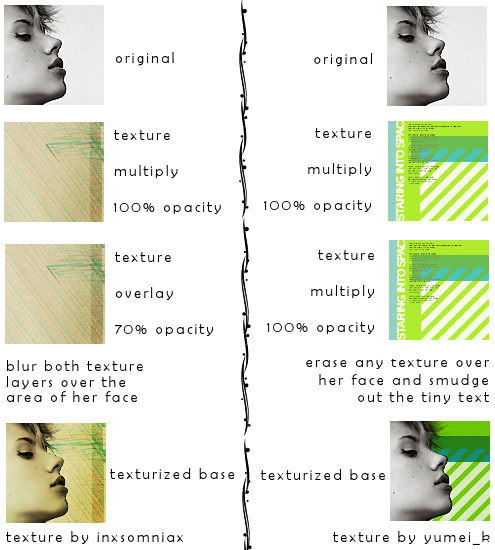 Other textured examples:


The blend method.


The erase method.


The erase method.


The erase method.


The erase method.


The blend method.

Check out my Guide to Making Good Bases or Guide to Layer Blend Modes if you need help with those.