Hi all! I just joined yesterday and you are all my new muses; you've helped taken my iconage to the next level and I love it!

I made my first tutorial this morning; enjoy it and if you have any constructive crits, go for it, I strive for excellence and feedback is very important.

So, in my tutorial, we will go from

to

in PS7.


We will begin with this picture of a super sexy Jake Gyllenhaal ...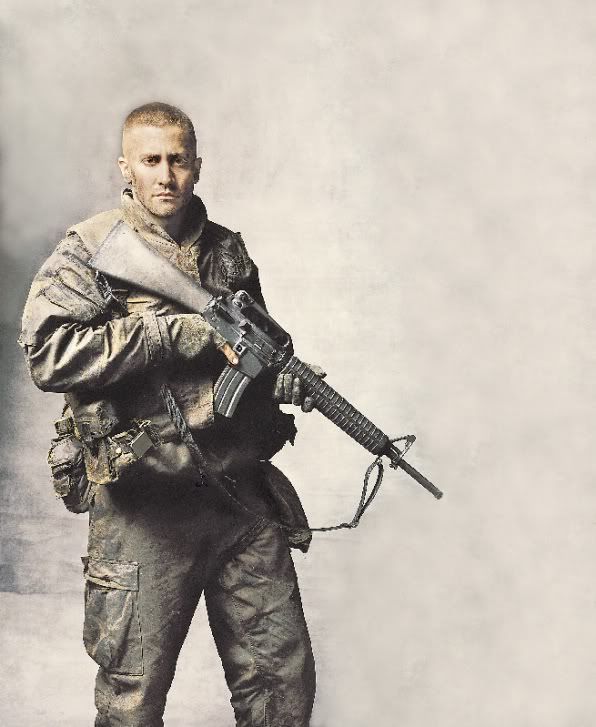 1. Creatively crop to 100x100 (or just save my icon. =)
2. Open new 100x100 blank white document, change locked background to Layer 0 (by double-clicking) and keep that layer on the bottom.
3. Copy & paste cropped image into the black document and keep it as Layer 1.
4. Sharpen once (Filter > Sharpern > Sharpen); duplicate sharpened Layer 1 and change to Soft Light 100%.
5. Duplicate Soft Light layer & desaturate (Image > Adjustments > Desaturate).
6. Create a new layer, and flood fill with a peachy color, setting to Color Burn 100%; I used #FFCC99.
7. Create a second new layer, and flood fill with a dark green, setting to Multiply 20%; I used #006600.
8. Create a third new layer and flood fill with the same peachy color 2 layers previous, setting to Screen 26%.
9. Take out the Text tool and set it on ITC New Baskerville, or a similar serif typeface, 8 pt with 200 letter spacing. Type "JARHEAD" and place wherever you'd like and set to Multiply 35%; I set mine in the upper righthand corner.
10. Create a new layer and take out the Paintbrush tool. Select a favorite tiny text tool and stamp it beneath "JARHEAD," setting to Overlay 100%. My tiny text was made by
ohfreckle.
11. Create another new layer and select a 100x100 abstract brush; mine is from Miggy (not sure if she's a LJ user or if I found it on the web) and looks like an explosion. Line up the borders on all sides, stamp once, and set to Overlay 100%. Finito!

Play around with the layers, sharpen or blur some, do whatever you think looks good. I'd love to see some other examples!

Here are some other icons I've made, using tutorials I found in this community ...







Enjoy!