This is my first tutorial...but hopefully not my last. Today we will be going from THIS to





Step 1: Cropping and preparing your base.



Take this image (or any image of your choosing) and crop it they way you'd like.

A great way to do this is to choose the marquee box and and choose "constrained aspect ratio." That way your cropping will always be square and that makes it easier when you shrink it to 100x100px.

Once you have selected the area to crop...go to image>crop




Now, go to image>image size> and make sure your image is 200x200 (even if your cropped image is smaller do this anyway).

Now, go to filter sharpen>sharpen

Repeat (you have sharped your picture twice now)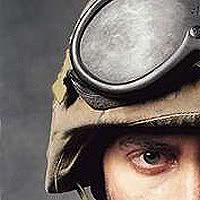 Go to your blur tool (looks like a raindrop) and choose it. Then go to the top and set the strength to 40%.

You will then blur the skin...but nothing else...just the skin. DO NOT BLUR THE LIPS OR EYES.




Go to filter> sharpen >sharpen

Go to image> image size> 100 x 100 pixels

Right click the background and duplicate it.

Go to Image> adjust> desaturate

(You know have a background layer and a desaturated layer)

Click on the background layer.

Choose the sharpening tool and set it to 25%

Using a small brush, very carefully sharpen the eyes. *If it looks weird then undo the step and decrease sharpening intensity and try again...or skip this entirely* I also sharpen the eye brow.

Click on the desaturated layer, set it to Lighten at 59%.

Go to Layer>merge visable

Your base is now done.




STEP 2: Coloring

I want to make Jake's eye look bluer.

Make a new layer.

Choose the color: #044772

Choose a soft brush...I am using a 9px sized brush but you might have to choose a smaller or larger one (depending on the picture).

Create a blue dot over the eye. Yes...it looks weird.




Now set the layer to Multiply 100%.


As you can see his eye looks darker and bluer.

STEP 3: MORE COLORING

Create a new layer.

Choose the paintbucket tool (looks like a bucket tipping over) and fill this layer with the color: #044772

Set this layer to Exclusion 39%





Duplicate background layer and drag to the top.

Go to image>adjust>desaturate

Set this layer to Overlay 60%

STEP 4: TEXTURES

Create a new layer.

Using this texture:
made by
_dysfunction
cut and paste the texture in the new layer.

Use the eraser tool to erase the texture over the face.

NOTE: I usually adjust the opacity so that I can see where I need to erase and where not to. Afterwards, I return the opacity to 100%




STEP 5: MORE TEXTURE

Create a new layer.

Use this texture:
from
colorfilter

Set it to Darken 100% and erase over the face.




STEP 6: FINISHING UP

Creat a new layer

Using the paint bucket tool fill the new layer with black (or any color of your choosing)

Using the marque tool set the tool to fixed size at 98 px by 98 px.

Click on the image.

Adust the marque so that it is centered.

Go to Edit>cut

Now you should a nice little border for your icon.





Merge all visable layers and save.

You are all done!!!

(if you use the icon in this tutorial...please don't forget to credit me. Thanks!)




Cross-Posted.