>

with PSP 7

This tutorial covers three primary things-making curvy, dotted lines (without brushes), creating lines under text, and creating curvy text, but not necessarily in that order. There is a post in the memories concerning the dotted lines in higher versions of PSP here.


I start out with an image, which I crop and resize. I create a new layer and fill it with #2A0B47 which I set on exclusion. Than I duplicate the base, drag it to the top of the layer palette, and set it on overlay.




>

>


Now we are going to create the curvy, dotted line. First create a new layer (Layers > new raster layer). Now I select the color I want for my dotted line. I make sure only the foreground color is selected (as depicted below in the first graphic). Now I go to the "Tool Palette" and select the draw tool (the pencil with the squiggly line beneath it). Go to the "Tool Options" box. I set the options as shown below (that is #8 Dot, by the way), but I wanted the distance between dots to be greater. I clicked the custom button, clicked on the top arrow in the style box, and motified the gap between dots. I saved it as "distant dots", but the title doesn't matter.





>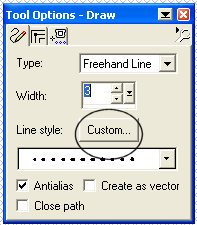 >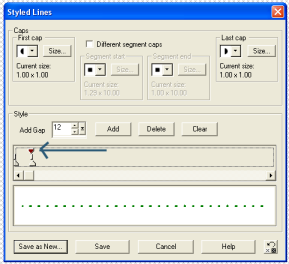 Now that I have all the line settings prepared, I drew my dotted line. To add a little flare, I added a light texture from Weapon Icons (thank you very much for sharing resources with everyone). I set it to screen.



>

>


Personally, I'd probably leave it at that, but curvy text with a line under it might come in handy to someone later, so let us take a stab at it. I went back to the draw tool and reset it to a #1 Solid Line and chose all the settings as below. Selecting "Create as vector" is the most important thing. I procede to draw the line I want. Now I go to the text tool, bring it over the line, and it turns into an A with a curvy line under it. Once I see the curser change, I click it and go to the "text entry box". (The process works the same if you want a straight, slanted, or curved line with a background behind it. For the first two, use the "Single Line" type and "Bezier Curve" for a basic curve.) I set my text as shown below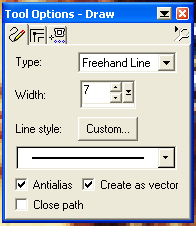 >
>


Now the text will follow the line I created earlier. I adjust it so it is right over the line. Now I promote the text (which I have set as a floating layer) to a regular layer and I change the vector layer line to a raster layer (both of which can be done in the layer palette). Now I see that I don't want the line quite that bold, so I lower the layer opacity to 75%.

>

Fin.