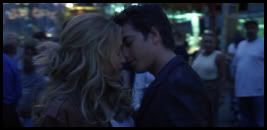 to





** Fairly image heavy (though everything has been resized), and very text heavy (Hi, my name is Xenia, and I'm a ramble-aholic ...). **


Hi. This is my first tutorial, so be warned. Though it isn't really an icon tutorial, but it can help in the whole icon making process, I suppose. So yeah .. anyway, moving on. Today I'll hopefuly be teaching you some color correction techniques using the Color Balance option in PSP8. I'll be using a cap from the movie Coyote Ugly, that I took myself. You can find the englarged image here. So here we go. Oh one more thing, I will try to explain things thoroughly, however if you feel that I skimmed over something too quickly, please let me know. I have no problem answering anyone's question, I'll be more than happy to. Also, all the screenshots of the palettes have been resized, if you click them, they will take you to larger versions. So yeah ... now we go.

Start with your image.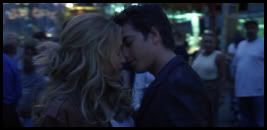 Duplicate the background layer (Layers >> Duplicate).
Set that layer to Screen. Duplicate the Screened layer twice more. In your layer palette, you should have four 'layers'. From bottom to top it should look like Background. Copy of Background (Screen 100%). Copy (2) of Background (Screen 100%). Copy (3) of Background (Screen 100%).
Merge all your layers. (Layers >> Merge >> Merge All (Flatten)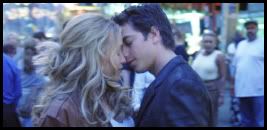 And now the magic begins.
Go to whereever your Color Balance is. In my PSP8 I go, Adjust >> Color Balance >> Color Balance.
Now, it's more than obvious that my picture is very blue. While the whole blue-scheme worked very well during the scene in the movie, it doesn't do much for icon-making. So my goal is to make the skin colors more ... skin color-y?! And to do that, we have to get rid of the blue-yness.
Once your Color Balance palette is open, you may have to reset it. Click on the little black arrow thing in the top right corner. That should reset the settings.

Like I said before, my goal is to make the image less blue. And as you can see, the inverse of Blue is Yellow. So if I want to make my image less blue, I'll have to make it more yellow. We'll start with the Midtones (Under Tone Balance). Take the slider in the third row (Yellow ... Blue). Slide it over so it's more on the yellow side. In my image, I slid it all the way over.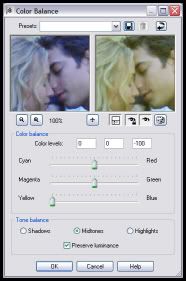 So while our image is less blue, it's a little too green for my liking. So from the looks of it, the inverse of Green is Magenta. So I'm going to take the slider in the second row (Magenta ... Green). And slide it over so it's more on the Magenta side. Not all the way. Try it, and you'll see why. It only took a few ticks for me to get something I liked.




Now, call me paranoid, but I think that it's a little too red now. So to just even it out, we're going to up the Cyan. Repeat the last two steps, only with the first row, seeing as Cyan is the inverse of Red. Not much, it doesn't need that much. (I set mine at about -5).
Now depending on your image, you may need to fiddle with the Shadows and Highlights. I didn't really need to, but it works the same way. If something is too much of one color, up the inverse color.

We now have this.




Things look a litte too BLAH, so we're going to up the Saturation. Go to Adjust >> Hue & Saturation >> Auto Saturation Enhancement. Enter these settings.




And just to brighten it up a bit, I'm going to mess with my Curves setting. Go to Adjust >> Brightness and Contrast >> Curves. Enter these settings.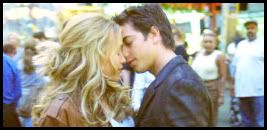 It's almost to the point of me being content with it. Although, maybe it's just me, but it seems a little too ... faded? Luckily, there's a tool in PSP8 to fix that. Go to Adjust >> Color Balance >> Faded Correction. Set the correction to 100%. See how it brightened things up, and removed some of the blue faded into the background. Nice, huh? (I also sharpened the image once).




So there, I'm happy with it. Everyone and everything looks normal. Now you proceed and do whatever it is you do when you make your icon. Add your dark blue layer to exclusion, or whatever you wish.

I hope I taught a person a new trick. If I didn't teach anyone anything, then oh well. At least I had something to kill time with. Like I said, if you have any questions let me know. And I'd like to see if this was actually able to help anyone with their screen caps while making an icon. Thanks for taking time to read this, since I know I can ramble. Maybe eventually I'll make a real icon tutorial.