After making an icon I really actually liked, I thought I could post a tutorial for it here. :D

Go from this:

to this:


In five steps.

I'm not too sure if this is translatable, but it might be? I'm using Photoshop 7. :D It shouldn't be too hard to follow, I hope!


First off, duplicate your base, and set it to Color Burn. It will give you this:




Next, duplicate your base again, set this layer to Overlay, and place it between your colour burned layer and your original layer. (Note: There are very, VERY subtle changes on how dark the darker areas on the picture are, depending on position of this layer.)




Take this sky texture:


(made by mystique87) and place it between the colour burn and overlay layers, and set this new layer to Overlay.



This texture:


(made by cdg) goes between the overlayed duplicate base and the base. Set this texture layer to Luminosity, and drag the fill down to 90%.




Finally, add this texture:


(made by briarrose_icons), and bring it to the top of your layers so it's the top layer, and set this to Overlay.




Altogether, your layer palette should look like this: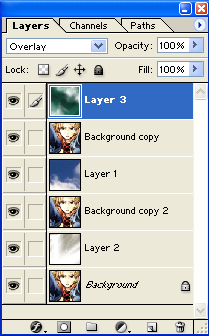 My outcome had text on it, but it looks good with or without text. For the text, I used an imagepack of Nightwish song titles (and god I wish I could remember who made it at the moment), set the brush to Linear Dodge, and used the brush tool twice to get it to stand out. The colour used to make it stand out enough to be seen on the darker parts was #AAACFF (a light, powder blue).

Of course, you don't have to follow this tutorial to the letter, you're free to do whatever you'd like. I'd love to see results of your icons! :D