This is my first tutorial, feedback would much appreciated.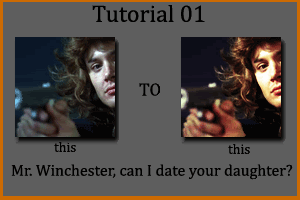 Start with your base, cropped to 100 x 100. I used this base.


Step 1- Auto levels
Auto Contrast
Auto Color (optional)
Sharpen




Step 2- Duplicate base and set to soft light 100%





This is where we get into layers

Step 3- New Fill Layer #deb700 set to Color 40%





Step 4- New Adjustment Layer- Selective Coloring
R: -65, 75, 45, 67
N: -13, 8, -15, 6





Step 5: New Adjustment Layer- Brightness/Contrast
B: 29
C: 6




Merge layers. Add text or brushes, be creative! You can always adjust opacities and such in layers to your liking, what I've offered is just a guide. I hope you enjoyed this tutorial and I'd love to see your results!

Comments are love! Please leave me some, as they satisfy the voices in my head.