Learn To Make This


Made With PSCS2-Involves Selective Colouring
My First Tut. So Go Easy On Me =]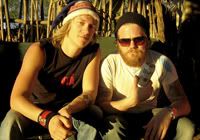 to

1. Duplicate Your Base Layer. Set To Screen.
2. Open A New Selective Colouring Layer
Yellows: -1, +100, +59, 0
Neutrals: +100, -9, -57, 0
3. New Fill Layer #eec48b Set to multiply 15%
4. New Fill Layer #91cef4 Set to soft light 5%
5. Duplicate Base Layer & Bring It To The Top. Set to soft light 15 and desaturate.
This works best with photos that are originally more saturated. If your image is duller try adding a Hue/Saturation layer and increasing the saturation based on how much your image needs it.


And there you go =]

Let me know what you think =] I'd love to see your results