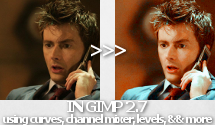 Program: GIMP 2.7
Translatable?: Probably, but there are 3 optional steps that might only work in GIMP.
Tools: Layers, Channel Mixer, Curves, Levels, Hue-Saturation, Brightness-Contrast


Step 1 - Get your base. Mine is of the The 10th Doctor(played by the amazing David Tennant) from 'Doctor Who' (image from the BBC website). Then crop and resize your picture.




(This next bit is OPTIONAL - it mainly gets rid of excess yellow in an image. I also don't know if it's translatable outside of GIMP due to the tools I used.)
Step 1a - Duplicate your image. Then use the 'auto white balance' tool (Colors>Auto>White Balance).



Step 1b - Next, open the filter pack (Colors>Filter Pack). This is a kinda tricky tool to use and describe(for me anyways xD), so I'll just show a screencap of what my settings are. After putting those settings in, click on the 'hue' button (upper right), and a new window should open. Click on the 'blue' button (bottom right corner) once. This will help remove any extra yellow.



Step 1c - After that, you can reduce the opacity of the layer if you like, and then flatten your image.

Step 2 - Duplicate your base. Open 'unsharp mask' (Filters>Enhance>Unsharp Mask).
Settings:
RADIUS: 10.0
AMOUNT: 0.12
THRESHOLD: 0
(OPTIONAL: I then selected the 'blur/sharpen brush' (in the toolbox, looks like a water droplet) and blurred all the skin. I also sharpened the eyes.)
Then set the layer to around 70% opacity, and flatten the image.



Step 3 - Duplicate your base again, and open 'curves' (Colors>Curves)
Channels:
VALUE: x:125 y:100
RED x:78 y:160
GREEN x:78 y:160
BLUE x:78 y:160


That looks too bright, so set layer opacity to 30-50%(mine was 40%). Flatten the image.




Step 4 - Duplicate base again, and open 'channel mixer' (Colors>Components>Channel Mixer)
Settings:
RED: 110, -40, 10
GREEN: -10, 55, 70
BLUE: -40, 45, 100



Set this layer to 'color' opacity 60-80% (mine was set to 70%)



Step 5 - Copy the image (Edit>Copy Visible) and paste as new layer. Then open 'hue-saturation' (Colors>Hue-Saturation)
Settings:
MASTER: lightness= 10 saturation= 5
RED: lightness= 1 saturation= 5



Step 6 - Duplicate layer again, and open 'levels' (Colors>Levels)
Settings:
RED- Input: 0, 1.2, 0 Output: 0, 245



Step 7 - Duplicate layer again, and open 'channel mixer' again.
Settings:
RED: 125, 5, -15
GREEN: 5, 110, 10
BLUE: -22, 55, 90


This looks too bright, so lower opacity to around 50%



Step 8 - Copy the image, paste as a new layer. Then open 'brightness-contrast' (Colors>Brightness-Contrast)
Settings:
BRIGHTNESS: -15
CONTRAST: 5



(OPTIONAL: I also have opened 'hue-saturation' after this step to increase the overall color, but I didn't do that with this icon.)

... and that's it! :D I hope it's useful





PLEASE POST ALL COMMENTS && QUESTIONS

HERE

AT THE ORIGINAL ENTRY IN
gymcat_graphics ! THANK YOU!

More examples: